A graphic designer can restructure the information that makes the audience responsive and nudge them to revert to the content. Graphic designing services are professional disciplines that allow the projection of visuals to transmit an intended message. 
Graphic designing works on the principle – "form follows function", which states that the shape (form) that something takes should be chosen based on its intended purpose and function. It is an interdisciplinary branch of design. Its objectives revolve around the assessment of problems and defining objectives for decision-making through creativity, innovation, and lateral thinking.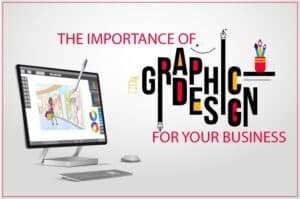 Why is Graphic Designing important in Digital Marketing?
In order to promote a brand or build brand awareness, graphic design proves to be an important tool. This modern form of digital artwork is a critical nerve when it comes to digital marketing. 
Now, let's en route to 'why graphic designing is important in digital marketing?'
Brand Identity
A creative graphic design and well-planned strategy would do wonders while establishing the virtual identity of a business. With this, you can establish your own unique tone, style, and differentiate yourself from the crowd, in order to attract potential clients. The image of your company- your logo that should be made functional and attractive, is of utmost importance. It conveys the motto of your company which starts with a graphic design.
First Impression
It's well quoted that, 'the first impression is the last impression', and when visitors come to your online store, that first impression has to be strong. A creative graphic designer conveys the principles of your business and the value it will provide to the end users. The first impression will help customers to track your brand in their minds.
Conveying information
'A picture is worth a thousand words ', this quote depicts what your graphic design will do. You can share your brand story with your target audience and make them see value in you. This conversation is established by the medium of images, reports, illustrations, etc.
Professionalism
The designs associated with your brand depicts your professionalism. It helps maintain the differentiation factor that distinguishes your product and business from others. This elevates organic customers that are built by trust and your brand value. When clients meet a consistent array of perfected brand designs, your brand creates a greater impact. 
Builds credibility
Quality, structure, and consistency in graphic design help to build credibility. It builds an invisible trust that comes from the time when users just see a design. A sleek appearance might be the convincing element in influencing consumers willing to build relationships with your company. As a professional brand image comes on the front foot, it builds goodwill for the company and is able to flourish in the long run. 
Increased conversion rate
A creative graphic design helps gain greater visibility that leads to higher conversion rates. The intent of the design can come out in an effective way and that promotes conversation, which is directly proportional to conversion opportunities. 
Distinguishes You
A graphic designer while building an array of visually appealing, well-designed materials like logo, webpage, print media, and social media, imprints your unique identity. This clean identity defines you differently from others and makes you more memorable than the rest.
A graphic designing service typically overlooks the authoritative look, unified aesthetics, consistent creation, and efficient communication with the audience. The skill sets acquired by creative graphic designers are illustrations, photography, animation, visual effects, and interactive design. Having web design and development services in-house comes with perks that will boost your business productivity.