A drawing is a clear representation of an object, or part of it, and is the result of the creative thinking of an engineer or an expert. When one person draws a map about giving direction to another, it can be considered as a communication of ideas. Communicating with graphics involves using visual aids to relate ideas. Drawings, photographs, slides, visuals, and graphics are all ways to communicate through images. Any communication method that uses a clear image to help convey a message, instructions, or idea is a sign of clear communication. One of the most widely used means of communicating with drawings is graphics. Technically, it can be defined as "a clear picture of a concept, concept or thing that exists or is truly present in life" Graphic is one of the oldest forms of communication, which goes far beyond oral communication. A diagram itself is a way of conveying the necessary details about an abstract concept, such as a vision or a concept or a clear representation of a real organization, such as a machine, house, or tools.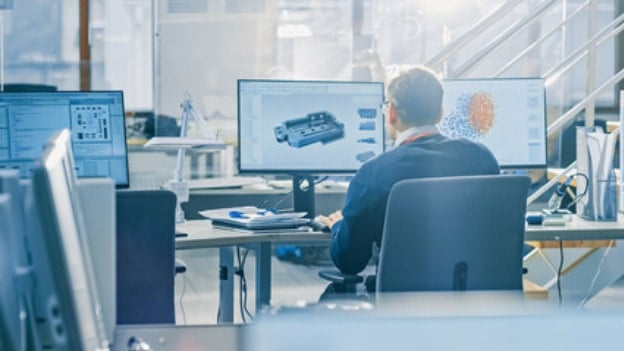 Technical graphics allow for effective communication between developers and can be kept as a record of the editing process. As an image costs a thousand words, a technical drawing is a much more effective tool for an engineer than a written plan. A technical drawing is a way to convey clearly and concisely all the information needed to turn an idea or idea into reality. Therefore, a technical drawing usually contains more than a clear representation of its title. It also contains size, notes, and specifications. Technical designing is the preferred method of writing in all fields of engineering, including, but not limited to, civil engineering, electrical engineering, mechanical engineering, and architecture.
Purpose of studying engineering drawing:
Improving the ability to produce simple engineering design and detailing based on current trends.
To develop the skills to learn the architectural and construction diagrams used in this field.
Develop practical knowledge of plant and equipment planning.
Improving the ability to extract data from calculation sheets and scheme drawings to produce working drawings for manufacturers, installers, and manufacturers.
The design approach is also a requirement for a flexible design process using computer- generated product models. Without this approach it is not possible to develop information- based systems; use stored data and methods; link different programs, especially geometric characters and analytical systems; ensure data flow continuity; and link data from various company divisions (CIM, PDM). Systematic processes also make it easier to separate work between designers and computers in a logical way.
The rational approach must also address the cost of calculation and quality considerations. The most accurate and fast initial calculations with the help of better data are a necessity in the design field, as early detection of weak points in the solution. All of this requires a systematic review of construction documents.
The design method, therefore, should:
allow problem-oriented approach; which means it should apply to all types of design work, regardless of the field of expertise
to promote creativity and understanding; e.g. facilitate the search for the right solutions
adhere to the concepts, methods, and acquisitions of other fields.
do not rely on accidental solutions
To facilitate the use of known solutions for related tasks.
easy teaching and learning
showcases the findings of modern psychology and modern management science; i.e. reduce workload, save time, prevent personal error, and help maintain an active interest.
facilitates the planning and management of collaborations in an integrated and inter- sectoral process.
provide guidance to team leaders for product development.
To establish a constructive approach that can serve as a solution, we must first examine the basics of systems and processes of technology and the requirements for computer support. Only when that has been done is it possible to make detailed recommendations for the design work. In social and economic processes – technologies, processes, and methods of theory systems are becoming increasingly important. The science of the various systems of systems uses specialized methods, processes, and resources in the analysis, planning, selection, and fine-tuning of complex systems. The system is also notable for having a border that cuts its links with nature. These links determine the external functionality of the system so that you can define a function that reflects the relationship between inputs and outputs, thus changing the magnitude of the variability of the system.
From the designer's point of view, it can be manifested as systems. It has been a short step in the application of system theory to the design process, especially as systemic objectives are more closely aligned with our expectations of a good design approach. The programmatic approach reflects the general awareness that complex problems are best addressed through consistent action, each involving analysis, and integration. The following are the steps of the program path. The first of these is the collection of information about the system under consideration using market analysis, advanced studies, or known needs. Often, this step can be called value analysis. The aim here is to clearly set out the problem to be solved, which is the first step in the development of the system. A plan is developed to give a formal idea of the program's objectives. Such objectives provide important means for the subsequent evaluation of various solutions and the finding of a suitable solution. Various solutions are then compiled on the basis of the information obtained from various steps.
Before these varieties can be tested, each component's performance must be evaluated in terms of properties and behaviors. In the following test, the effectiveness of each variance is compared to the actual objectives, and on the basis of this a decision is made and the best system is selected. Finally, the information is provided in the form of an implementation plan. The steps are not always straightforward to the ultimate goal, hence repetitive processes may be required. The built-in decision-making steps facilitate this process of doing better, which facilitates the conversion of information. In the programmatic theory model of the system, the steps are repeated in the life cycle of the system.
Another reason for engineering design and writing services is planning to analyze product value. The main purpose of price analysis is to reduce costs. To that end, a comprehensive systematic approach is proposed, in particular, to the development of other existing products. Usually, a start is made with an existing project, which is analyzed in terms of the required functions and costs. The ideas for the solution are then proposed to meet the new objectives. Because of its emphasis on functions and seamless search for better solutions, Value Analysis has many similarities to structured design.
There are various ways to estimate costs and to measure cost reductions. Effective communication between various departments can reduce the cost of a product. Good communication between employees in sales, purchasing, construction, manufacturing ensures a complete view of needs, design structure, material selection, production processes, storage requirements, standards, and marketing.
Another factor that is important is the division of the work into various sub-tasks and their allocation to operators. The cost of performing all operations can be estimated from the calculated cost of certain items. Such costs may then provide a basis for examining ideas or a variety of activities. The aim is to reduce these operating costs and, where possible, eliminate unnecessary jobs. It has been suggested that the application of the value analysis method should not be discontinued until the formulation and drawing of the data has been completed, but should be initiated at the time of conception in order to have a value. And that's why value analysis has become an essential part of the businesses for their product development.
Engineering design and drafting services is an important element for companies around the world. Companies provide these services to influence their clients with sophisticated ideas for the future so as to enhance customer satisfaction. The demand for such services has been in continuous demand for the last two decades and it will continue to remain so many more decades.
Also Read: Importance Of 3D CAD Modeling In Mechanical Engineering Design