There has been significant growth in custom mobile app development all over the globe. As per recent reports, per employee saves about 7 and a half hours by using customized apps. With that, 82% of business owners have been aided to get additional revenues in their business.
Mobile apps by development companies like Technosoft can be completely or partially personalized to best suit the needs of any business. These kinds of apps are altered to solve a specific problem or cater to a particular audience, rather than giving a common, more generic solution to all kinds of problems or audiences. 
That's why custom mobile app development company has garnered so much traction and has been a majorly attractive choice for businesses. With that being said, today we'll ponder around the top 10 benefits of custom application development by a leading mobile app developer, Technosoft.
Top 10 Benefits Of Custom Mobile App Development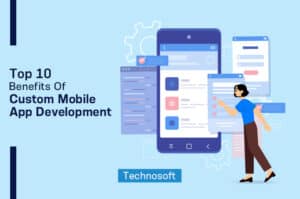 All kinds of businesses today, small, medium, and large, are taking this opportunity to use the power of customized apps in their respective businesses. This enables them to be competitive and efficient in their operations. Let's know the top 10 advantages of Custom Mobile App Development company:
1. Gives Real-time Project Access
While working remotely or during travel, having access that is simple and easy to all your work reports ends up being exceptionally helpful. Having a custom application for your business, you can undoubtedly synchronize your telephone with your workplace and approach all your work records, documents, meetings, schedules, and so on. Likewise, recovering contracts or important files which can be shared with your clients turn out to be easy and user-friendly with custom business applications.
2. Aids in Project Management
Custom applications can be introduced to keep a continuous check on the progress of your project and deadlines. Updates can be sent after each period of the venture is complete and maintained with the cycle of billing for each project stage.
3. Boosts Efficiency
Since the business apps are exceptionally customized on the lines of your business prerequisites, it performs like a thorough application carrying out different roles and avoids the necessity of various other applications. Likewise, as these applications are custom-fitted to suit your functioning style, it upgrades and boosts efficiency and thus business ROI is also increased
4. Easy Accountability
For contemplations, new ideas, and thoughts that are related to your client, one can undoubtedly catch them on the telephone for correspondence. These accounts can then be directly put away in secure areas and can be retrieved only by authorized personnel. This can help in further developing responsibility and furthermore serve your clients better.
5. Gives High Scalability
Standard applications are made to deal with a set number of assets and cycles. In case of your business progression, these applications will be unable to deal with the heap of work that comes in. Specially designed custom applications are developed keeping in mind this large number of tasks and workloads and can be increased effectively when the need emerges. Thus, as a result, the scalability of your business increases.
6. Offers Security Of Data
General business applications could not probably have specific features of security, which might seriously endanger your business information. Having a custom app made by Custom Mobile App Development exclusively for your business can support your information security framework, as significant safety efforts will be dealt with, as indicated by your business needs while developing the application.
7. Coordinates With Existing Software
General business applications might or might not have the option to work flawlessly with your current programming and software. Applications that are custom made are incorporated thinking about your ongoing business systems and thus are ensured to coordinate and integrate with your existing software well in capacity, with practically no blunders
8. Simple to Maintain
By utilizing standard applications for your everyday business activities, you are gambling with yourself in charge of an unknown mobile app developer. In the event that the developer chooses not to continue with your application for reasons unknown, you are passed on to find a new application and stop your ongoing tasks. By building your own app by Custom Mobile App Development, you gain complete control and don't need to rely upon others for anything
9. Develops Customer Relationships
Applications made by customized app development give you the capacity to send updates related to your business, which are also customized, directly to your current clients continuously. Moreover, it permits you to get feedback and details of your clients and get input, which can be utilized to further develop customer relationships that are long-lasting.
10. Works with New Client Data Retrieval
Adding basic reviews and forms in your custom application can assist you with getting the necessary client data. Aside from being a watchful approach to gathering data, it likewise saves time for employees and clients too, as they don't need to present the records physically.