MachTek Smart Hard Hat
With manufacturing and construction Safety Helmet ushering in a new horizon, it also possess significant challenges to business managers for project & resource management. With the growing need of working remotely, tracking productivity and managing resources better becomes crucial for supervisors. Thus, making remote monitoring through use of technology, more essential than ever.
Presenting the "MächTek Smart Hard Hat", an IoT enabled solution aimed to take worker productivity and safety to the next level. This is a smart & sophisticated safety helmet that enables remote monitoring of workers, while opening an effective channel of communication.
An interactive web-based portal and mobile app, provides insights on worker productivity, environmental safety, health and other key aspects.
Primary Features

Enabling supervisors and managers to monitor and control worker activities from anywhere.
With the on-board camera, a worker can send site images to a centralized location whereas a supervisor can also remotely capture an image.
Two-way voice communication between the supervisor and the worker opens an effective channel of communication.
Real-time alerts that are fully customizable.
GPS location tracking to determine exact location of workers over a large area.


Key Benefits
Minimizes physical interaction and maintains social distancing at worksite
Real-time alerts
Reduced supervision costs
Secure & Scalable solution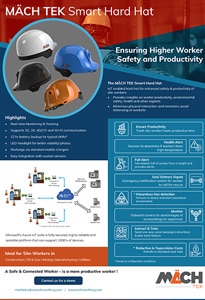 Download Brochure