MächTek Smart Hard Hat
With manufacturing and construction ushering in a new horizon, it also possess significant challenges to business managers for project & resource management. With the growing need of working remotely, tracking productivity and managing resources better becomes crucial for supervisors. Thus, making remote monitoring through use of technology, more essential than ever.
Presenting the "MächTek Smart Hard Hat", an IoT enabled solution aimed to take worker productivity and safety to the next level. This is a smart & sophisticated safety helmet that enables remote monitoring of workers, while opening an effective channel of communication.
An interactive web-based portal and mobile app, provides insights on worker productivity, environmental safety, health and other key aspects.
Primary Features

Remote Monitoring & Control
Enabling supervisors and managers to monitor and control worker activities from anywhere.
With the on-board camera, a worker can send site images to a centralized location whereas a supervisor can also remotely capture an image.
Two-way voice communication between the supervisor and the worker opens an effective channel of communication.
Real-time alerts that are fully customizable.
GPS location tracking to determine exact location of workers over a large area.

SoS/Distress Signal
An on-board SOS/Distress signal button provide immediate notification to the supervisor that someone needs help. Response time is crucial and with real-time alerts & exact location from GPS, the supervisor can send help immediately.

Health Alerts
Infrared non-contact temperature sensor that records worked body temperature at set frequencies. It also alerts the supervisor for any abnormal readings

Fall Alerts
Altitude sensor that can detect fall and notify immediately

Sensor integration
Our hardware platform is capable of integrating with multiple sensors, depending on unique customer requirements. The current configuration includes:

Infrared non-contact temperature sensor
Altitude sensor
Proximity sensor to determine other hats within a specific radius

Advanced sensors like hazardous gas, air quality or motion can also be integrated

Secure cloud & connectivity
The MachTek solution is developed using industry leading hardware platform and Microsoft Azure IoT Suite. It can connect to the cloud using Wi-Fi or cellular network.
Microsoft's Azure IoT suite is fully secured, highly reliable and scalable platform that can support 1000s of devices.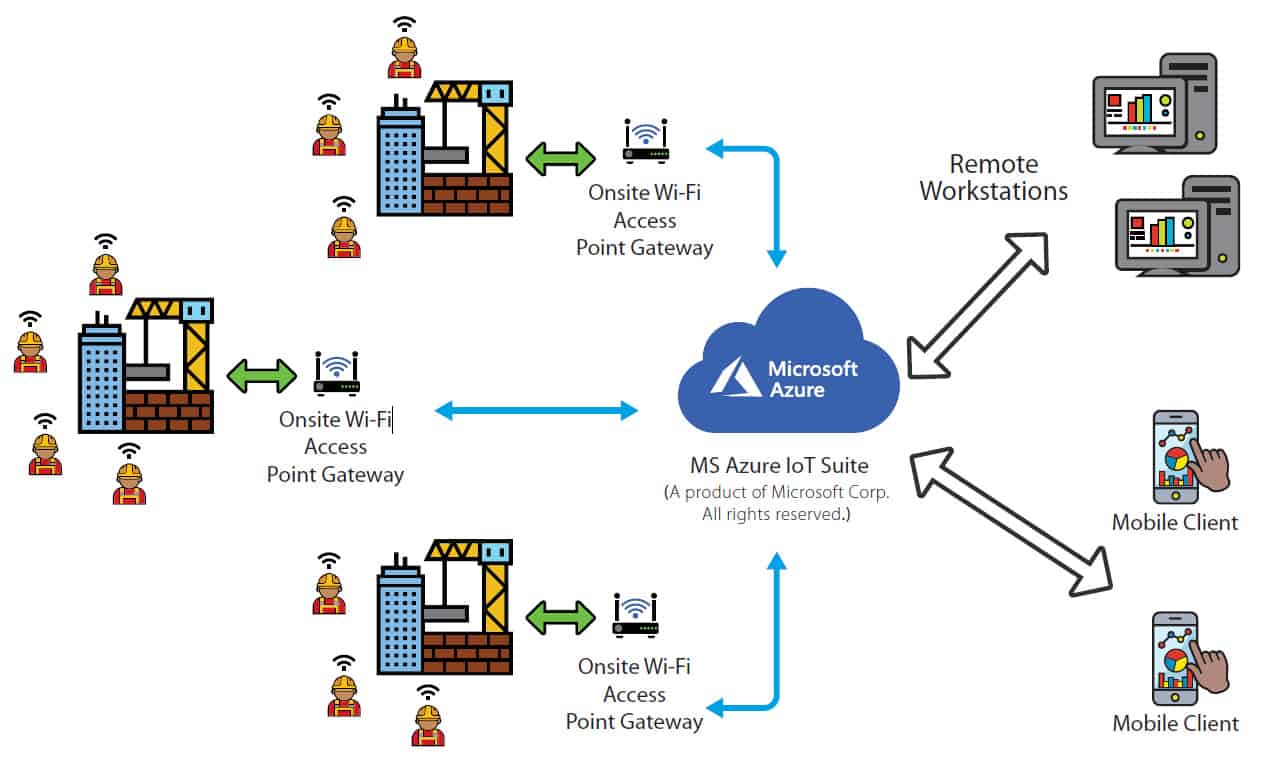 Web portal and Mobile app
The solution is equipped with a web-based portal and a mobile app that features an interactive dashboard providing a bird's eye view of the entire site. With the portal, one can manage sites, users, and hats.
Supervisor can contact a worker using the portal as well as the app
Standard productivity reports to manage the day-to-day, and can also be used as attendance input for payroll processing
Reports can be customized per user requirements

Project management
The web portal can import standard project templates with checklists. The same can be updated by the supervisor and shared
Key Benefits
Minimizes physical interaction and maintains social distancing at worksite
Real-time alerts
Reduced supervision costs
Secure & Scalable solution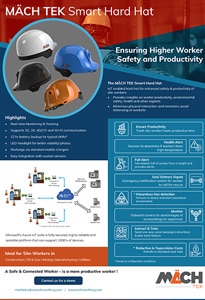 Download Brochure