Data Services
Revolutionize Your Data Management With Our Effective Data Services
In today's data-driven business world, having access to accurate, reliable data is critical for making informed decisions and gaining a competitive edge. But managing and processing large volumes of data is complex and time-consuming, not to mention the exceptional expertise required. That's where data services provide businesses with the tools and support to effectively manage, analyze, and utilize their data.
Product Data Management
Product Data Management (PDM) is a critical component of effective data management for any business that deals with product information. PDM involves collecting, organizing, and managing all the data associated with a company's products. This includes everything from product specifications and pricing to marketing materials and customer feedback.
At Technosoft, we offer a wide range of PDM services to help businesses streamline their product data management processes and optimize their data for maximum impact. Our PDM services include:
Data Extraction: Extract key data from unstructured documents, ERP systems, databases, etc.
Data Cleaning: Clean and standardize data for accuracy and consistency
Data Analysis: Analyze data to identify trends, patterns, and insights
Data Interpretation: Interpret data to provide actionable recommendations
Data Configuration: Configure data to meet specific business needs
Semantic Enrichment: Enrich data with additional context and meaning for improved usability
Content Delivery: Deliver product data in client-specified formats for easy integration
With our PDM services, you can benefit from various services, including:
Improved data accuracy and consistency
Increased productivity and efficiency
Enhanced decision-making capabilities
Improved customer satisfaction and loyalty
Increased revenue and profitability
Technical Publishing Services
Technical Publishing is the process of creating and distributing technical documentation, including manuals, reports, and other documents, to support the operations of a business. At Technosoft, we offer a comprehensive range of Technical Publishing services to help businesses streamline their documentation processes and improve the accessibility and usability of their technical information.
Our Technical Publishing services include the following:
Data Extraction, Transformation & Loading (ETL):
Extract, transform, and load data from various sources to create a comprehensive database.
Scientific & Technical Manuals (STM):
Create high-quality technical manuals that are easy to understand and use.
Operating Manuals:
Create manuals for equipment, machinery, and other systems for smooth operation and maintenance.
Interactive Parts Manuals (PDF & Online):
Create PDF and online manuals for easy finding and ordering of parts.
Report Generation:
Generate comprehensive infographics providing insights into various aspects of business operations.
By choosing Technosoft for your Technical Publishing needs, you can benefit from various services, including:
Increased productivity and efficiency

Enhanced user experience and satisfaction

Improved compliance and regulatory adherence

Increased revenue and profitability

Reduced operating costs
Why Technosoft?
Technosoft has been providing world-class engineering and IT services for over 21 years, with a team of over 500 certified engineers and designers in US, Canada, UK, Netherlands and Germany. With local support and project delivery, Technosoft has the resources and expertise to meet the needs of businesses of all sizes.
At Technosoft, we pride ourselves on our experienced cross-functional teams, strong quality control, and global delivery management, enabling us to provide our clients with the best possible service. Our development practices are among the best in the industry, and we are proud to be TUV certified for our information security management system.
We offer flexible engagement models to our clients, allowing them to choose the best approach for their business. Our engagement models include the following:
Dedicated Teams: We provide dedicated teams of experts who work exclusively on your project.

Time & Materials: We provide resources based on your project requirements and charge for the time and material

Fixed Price: We provide a fixed price for a defined scope of work.

Build-Operate-Transfer: We build and operate the project for a defined period and then transfer ownership to the client.
At Technosoft, we are committed to providing our clients with the highest level of service. Our clients have shared their incredible experiences with us through testimonials and case studies, which highlight the following benefits of partnering with Technosoft:
Reduced costs and increased efficiency

Faster time-to-market

Improved product quality

Enhanced customer satisfaction

Greater scalability and flexibility
Technosoft has the expertise and resources to help you achieve your business goals, whether you want to outsource your entire project or simply need additional support. So, learn more about how we can help your business grow and thrive.
Services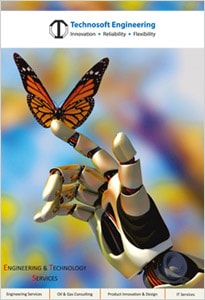 Download Brochure