Heavy Engineering
The Heavy Engineering industry has its own set of challenges due to the size of products involved and scale of operations. Our Customers expect the highest level of accuracy and reliability because of the enormous cost involved.
The biggest challenge faced by the Heavy Engineering industry is reducing the product development cycle. This demands continuous development and upgradations of products to distinguish it from the competition and gain the first mover advantage in the competitive market.
Technosoft not only empowers our clients to achieve a competitive edge but also helps in increasing their market share with the help of our world-class Engineering Services and Solutions. We specialize in Engineering Design, Product Design & Development, Value Engineering & Value Analysis, Engineering Analysis, and Automation Services. Our technical expertise helps us provide you customized solutions which are essential to fulfill your requirements.
Our rich experience in design and development of heavy engineering industry includes various types of machinery such as:
Mining / Earthmoving Equipment Design & Development

Technosoft helps you design, engineer as well as validate future ready mining and earthmoving equipment. Our deep domain knowledge, global footprint, and proven engineering potential enable us to deliver innovative and functionally relevant solutions to our heavy engineering clients. We help global manufacturers drive efficiency throughout their product development cycle.

Our team includes specialists in mechanical engineering, product design, electrical and embedded design, control systems, hydraulics, and powertrain. We have worked on an extensive array of products that includes earthmoving and mining equipment. Combining our unique engineering and design skills and enabling tools we provide time and cost-effective solutions to our clients.

Steel Processing Equipment

Technosoft leverages its wide industry knowledge and experience to offer detailed designs for steel processing equipment and other applications within heavy engineering. We use a sophisticated range of tools to prepare 3D models and detailed drawings to make sure products can be manufactured efficiently and provide exceptional performance in service.

Our team performs finite element analysis, assesses thermal performance and evaluates how the equipment withstands stress and strain of the extreme conditions found in a heavy industry environment. We can transform your concepts into innovative and practical solutions right from idea generation to detailed drawings and complete set of plans.

Shipbuilding Applications and Marine Applications

Technosoft has been designing shipbuilding applications for world's leading boat designers and shipbuilders. We help develop safer, high-performing and cost optimized vessels. We apply our simulation technology and consulting organization to help naval architects address complex challenges in marine application designing.

We also help mitigate environmental risks associated with seagoing loads which include dynamic, structural, hydro, fatigue and thermal threats. We help clients reduce the total manufacturing cost and meet the stringent design and operational regulations with our vessel safety tailored solutions.

Energy, Utility & Power Generation

The Energy and Utilities sector is undergoing a rapid transformation these days due to tightening regulation, the surge in privatization and growing environmental consideration. Technosoft offers its mechanical engineering and electrical engineering services to global energy and utility players.

Our expert engineers use CAE, value engineering, and value analysis to provide powerful insights across key business areas. We design world-class equipment, drive higher efficiencies and reduce operational costs. Our engineering solutions encompass eco-friendly technologies that lower emissions and meet the sustainable as well as clean energy goals.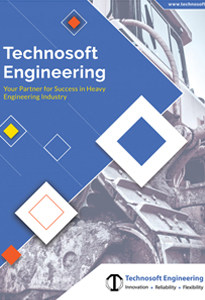 Download Brochure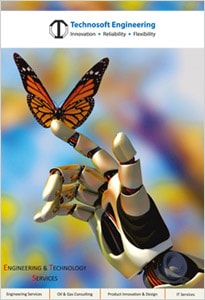 Download Brochure