Furniture Industry
The demand for the customized furniture is growing exponentially. Every business holds its own brand identity and looks forward to create a unique look and feel of their business in the market. We help our clients in creating the required unique identity in all their business units. However, the improvements in technology, global markets, access to information, seamless connectivity and customer experience are totally redefining the future of this industry.
Technosoft Engineering is a global leader that offers world-class design and engineering services for the retail, hospitality and restaurants, offices and Institutions, and Material handling and OEM. Our furniture design solutions include ideation, concept development, sketching, 3D imaging and more.
We streamline the complete development process, aiming to shorten the timeline without sacrificing the design quality and construction integrity in any manner. We also provide clients with the most successful point of purchase display concepts. At Technosoft, we deliver the designs that fit your space with perfection.
Why Partner with Technosoft Engineering?
We have a dedicated team of 50+ designers and engineers who specialize in the field of Furniture Designing. Our design engineers develop the complete concept designs to make sure the form, functionality and visual appeal of furniture and fixtures is achieved. The knowledge and skills of the designers are backed up by the latest software and digital tools. This gives our clients a visual representation of their project to encourage an informed and creative decision making.
The design and development group at Technosoft can make sure you develop innovative furniture on time and at an optimized cost. We evolve ourselves with the changing trends in the furniture sector serving as a strategic partner for you.
Our Services
Retail

Technosoft Engineering can help you design your space in a manner that promotes hassle-free and an enjoyable experience for your customers. Our design engineers specialize in merchandising displays and fixtures for your convenience stores/grocery stores while optimizing the costs. The luxury fixtures can be designed as per your project's unique requirements. Custom displays enhance the beauty and elegance of your product without distraction. Our specialty retail designs help set your brand apart and provide a clear aesthetic vision to the customers.

In retail sector we design for:

Luxury Retail
Specialty Retail
Convenience Stores/Grocery Stores
Fashion and Beauty

Hospitality & Restaurants

Great customer experience and great ambiance are essential to the success of your hospitality business. Technosoft Engineering offers world-class solutions for your hotel and hospitality design needs. Our engineers specialize in designing furniture and equipment for hotels or restaurants. We help you maximize space, reduce costs and create operational efficiencies.

We offer our unique design services for:

Restaurants and Food Serving
Hotels
Gaming Zones

Material Handling & OEM

Technosoft Engineering helps you design innovative material handling solution. Our designs help to enhance efficiency while reducing the need to use forklifts.

We specialize in designing:

Carts (order picking carts, versatile merchandising carts, mobile demo and workstation carts, beverage and parcel carts)
Stackers & stackable containers
Custom components for various industries

Offices & Institutions

Technosoft Engineering provides custom services and fixtures for offices and various institutions. Our industry-leading project management team along with high-quality custom fabrication ensures world-class design services for your office or institution.

Our institutional projects include:

Education
Office Furniture
Healthcare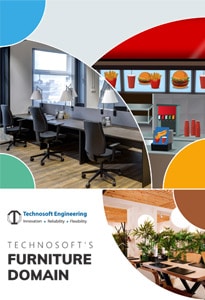 Download Brochure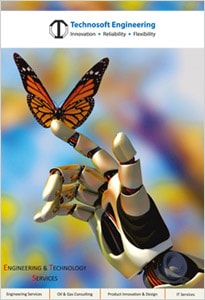 Download Brochure