Tooling design is an essential part of the design process. It is a prototypical model of a tool that manufacturers use to create parts and tools. Tooling design plays a crucial role as it affects the quality of production in the end-user industry.
Global statistics suggest that the tooling and design (specifically cutting tools) market size is expected to get a worth of 239.90 million in 2023. Additionally, the global generative design market is set to touch USD 274 million by the end of 2023.
These statistics suggest that there is a huge scope for designs this year, which in turn, feeds the need to know the crux of the tooling design process. Hence, this blog will guide you on the same.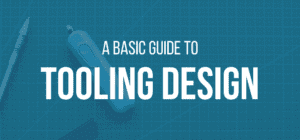 What is Tooling Design?
Tooling design is an essential part of the manufacturing process. It refers to the plans and components used to build a product or part, from start to finish. This type of design covers everything from selecting raw materials and molding them into specific shapes, to machining parts for accuracy and assembly processes.
As tool designing enables manufacturers to produce products that are both efficient and cost-effective, tooling design is often regarded as the linchpin of any manufacturing operation.
Additionally, in tooling design, engineers create tools using a variety of processes such as CAD/CAM technology, CNC machining, mold making, die casting, welding fabrication, heat treating, and more. They also consider factors such as material selection and tolerance requirements in order to produce parts that meet customer specifications.
Why is Tool Design Important in Manufacturing?
Tool design is important in manufacturing as it helps manufacturers design and create parts faster, more efficiently, and accurately.

Tool design ensures that the right tool is used for the job, reducing waste and increasing productivity.

In addition,

tooling design

helps to optimize

product design

, ensuring minimal downtime. This way, manufacturers can reduce the cost of manufacturing by not having to use expensive custom parts.

Tooling design also helps to reduce manufacturing costs by eliminating the need for costly

tool material

s.

Tool design also helps to improve productivity and efficiency during the manufacturing process. Thus, it is vital for a company's growth and success.
Importance of Tooling Design.
Tooling design is an important part of the manufacturing process and can have a significant effect on product quality, cost, and time to market. Let's have a look at the importance of tooling design:
Tooling design must consider the material type and geometry of the part being manufactured. Different material types have different wear characteristics, and as such, tooling design must reflect this variation.

Tooling design must consider tolerances and other specifications of the part being manufactured. Doing so helps in ensuring that the part being produced is within prescribed limits.

Tooling design must consider potential wear, fatigue, and environmental conditions during production. Doing so ensures that parts are produced smoothly without any issues.
The Process of Tooling Design
The process of tooling design involves a multitude of steps from formulating a tooling design document to verifying tests and it include three major steps:-
Step 1: Understand the application and requirements of the tooling design. This involves analyzing the product geometries, conducting the proper functional and physical analysis, and determining the best manufacturing process for making the tooling part.
Step 2: After choosing the right tooling materials for the tooling design, you must design a tool that meets safety and performance standards.
Step 3: The last step is to create a prototype and test it before mass production begins.
Benefits of Using the Right Tooling Design
With an altogether intricate process, tooling design poses several benefits. Some of them are noted below.                                                     
Using the right tooling design can save time, money, and resources. It helps to reduce production costs and errors while also ensuring the accuracy of components.

As a result, high-quality tooling design ensures that products are of optimal quality and durability. This is beneficial as it increases customer satisfaction and overall brand recognition.

A properly designed tooling system reduces installation time and costs for manufacturing processes. It also makes for easier repairs and adjustments during the manufacturing process.

Moreover, it has better reliability and efficiency compared to hand-crafted designs. High-quality tooling design improves product life by minimizing potential wear and tear on parts.
Fundamentals of Tooling Design
There are essentially 4 fundamentals of tooling design of which are discussed below: 
#1 Tolerance and Precision
Tolerance and precision are key aspects to consider when designing a tool. The tighter the tolerance, the more precise the finished product will be. In addition, it is important to consider the type of material used in the tool as certain materials are better suited for certain tasks.
For example, a tool that requires a high degree of accuracy may require a tool made from a special type of metal or non-bendable material. Also, it is essential to understand how the material will interact with other components of the tool to ensure that it performs optimally.
#2 Production Volume and Durability
Designing tools involves a number of considerations, including production volume and durability. When designing a tool, it is crucial to take into account the production volume of the tool's design. High-volume production necessitates tools that are robust and resilient enough to withstand increased wear and tear. Durability is also essential, as tools must withstand hundreds or thousands of cycles without failing.
More intricate designs are more likely to fail under pressure, so the complexity of the tooling design will affect its durability. As different materials have different strengths and weaknesses, the type of material used for the tooling is crucial for both production volume and durability.
#3 Cycle Times
Cycle times refer to the total amount of time required for a machine to complete one cycle of operation, including setup and teardown. Designers must consider cycle times when designing tools in order to optimize production.
Other factors, such as tool strength, durability, and ergonomics, must be taken into consideration. The design of tools can help reduce setup times, increase accuracy and repeatability, and improve quality control.
Properly designed tooling can reduce setup times, save money, and greatly improve production efficiency. It can also help manufacturers create high-quality products faster and with fewer resources.
#4 Tool Changing Time
Tool changing time is a major factor in tooling design. It is important to consider the speed of tool changing when designing a tooling system, as this can greatly affect the final product's quality.
Additionally, the accuracy of the tool change should be considered, as it can affect the final product's quality. Other considerations include how easily tools can be changed and serviced, and how much space is available for storing tools.
In designing a tooling system, consideration must be given to the size and shape of the tools being used as well as the materials they are made from. All of these factors must be taken into account to design a tooling system that allows for efficient and accurate tool changing while maintaining high-quality output.
Conclusion
Now you have finally understood the basics of tooling design and also that the design and development of manufacturing tools is a complex process that involves tooling engineers, designers, and manufacturers. While the design of tools may seem simple, it is vital to the performance of manufactured parts, which can be life-threatening if not done right. 
If you are looking for tool design services, we've got you covered. Avail the best tooling services from Technosoft, a recognized firm having decades of experience and expertise. We hold our experience in manufacturing rotation equipments, Valves, Volutes, Dryers, Washers, Boilers, Heat exchanges, and much more, to provide you with a better quality production at your end.
We're ready to get started, are you?