The research suggests that the global IoT in the manufacturing market was valued at USD 205.8 billion in 2021 and is expected to touch USD 1.53 trillion by 2030, with a CGAR of 24.91% between 2022 and 2030.
These statistics proclaim that the path of digital transformation in manufacturing is through IoT manufacturing. This sector uses a network of sensors to gather production data and uses cloud software to transform that data into insightful knowledge. Today, industrial IoT solutions are the core driving force behind Industry 4.0.
This article will discuss the role of IoT in manufacturing.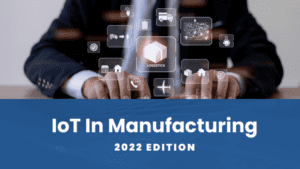 What is the industrial internet of things (IIoT)?
IIoT refers to interconnected sensors, instruments, and other devices networked together with computers' industrial applications. These applications include manufacturing and energy management. IoT device connectivity enables the collection, exchange, and analysis of data, which may facilitate productivity and efficiency improvements as well as other economic benefits.
The main motive of industrial IoT solutions is to improve efficiency in manufacturing, supply chain, and management contexts. 
The architecture of IoT in manufacturing
Traditionally, IIoT systems are developed as digital technology with a modular layered architecture.
| | |
| --- | --- |
| Contact Layer | User interface devices like computer screens, PoS stations, smart glasses, touch surfaces, tablets, buttons, etc. |
| Service Layer | Software to analyze data and transform it into actionable data, which is displayed on the driver's dashboard. |
| Network Layer | Wi-Fi, Bluetooth, LoRa, communication protocols, cellular, cloud computing |
| Device Layer | Hardware components like sensors, machines, CPS, etc |
Impact of Industrial Internet of Things in three verticals
Shop floor and field operations
Embedded sensors in machinery and equipment collect real-time data on operational conditions and the condition of spare parts. The provided data is subsequently analyzed by the cloud platform. The results are then shown in a user application, providing shop floor supervisors with a comprehensive perspective of the production process.
Its applications can be divided into two groups:
Supporting manufacturing operations:

This involves monitoring of equipment utilization, product quality control based on condition, and safety.

Facilitating industrial asset management:

This involves industrial asset tracking, inventory management, and predictive maintenance (based on condition monitoring).

The manufacturing supply chain
IoT devices ensure end-to-end supply chain management. Manufacturers can, for example, monitor the movement of vehicles delivering supplies and commodities, view extensive information on things in warehouses, and manage the conditions (temperature, humidity) under which products are stored or moved.
Remote and outsourced operations
Typically, modern businesses are not located in a particular region; rather, they have several affiliates and branches dispersed across the globe. Moreover, they can outsource their manufacturing processes to third-party manufacturers in order to save money on shipping or infrastructure.
IoT solutions and services provide centralized monitoring of all decentralized and outsourced processes. This is the most effective method for guaranteeing that all contractors adhere to the technological process and that all manufactured goods meet predetermined requirements.
Applications of IoT in manufacturing
Smart packaging
It uses IoT that allows customers to engage and generate data for better product management in the future. IoT and packaging interact through sensors, QR codes, AR, VR, and mixed reality. Smart asset tracking provides consumer value while collecting data and improving operations and efficiency.
Predictive maintenance
Embedded IoT devices in machines can detect temperature, pressure, voltage, etc. malfunctions and warn appropriate staff, leaving employees to take remedial action. Predictive maintenance helps technical support staff find and fix defects before they cause catastrophic equipment failure, lowering downtime and costs.
IoT-connected equipment can be combined with advanced analytics tools for predictive maintenance.
Remote production control
IoT in manufacturing allows remote process monitoring and equipment configuration. First, workers can remotely collect data on industrial processes to verify if they comply with norms and requirements.
Second, they may remotely configure equipment, saving time and effort. Businesses can use IoT software development services to simplify equipment administration and control via virtual networks.
Asset management
Manufacturers can collect and monitor real-time asset data via the web or mobile apps. IIoT devices provide industrial asset tracking by doing the following.
Goods-carrying vehicle

Inventory

Resource-related production
With the industrial internet of things, you can track and optimize assets from the supply chain to the finished product.
Asset monitoring detects problems that affect product quality or time-to-market early and accurately.
Digital twins
These include IoT, AI, ML, and cloud computing. Digital twins facilitate the digital transition in production and may be advantageous on the factory floor. Using virtual reproductions of equipment and replacement parts, engineers and management can mimic operations, run tests, detect defects, and achieve desired results without destroying actual assets.
4.0 Industrial IoT solutions trends in 2022
Sensor advances and innovations
With advances in communications technology, especially the deployment of 5G networking, facilities will be able to install more sensors, collect more data, and act on more information. Multiple sensors give a high-end view of operations and more insight into unforeseen events—and the potential to prevent them. 
Analyzing data at source
With vast amounts of data being continuously collected and analyzed, some smart factories are modifying their technical architecture by bringing data analysis and artificial intelligence (AI) technology to the "edge" — the point of data collection — to drive technical decision-making and analytics without the need for a massive, overloaded central repository, which can slow down analysis and action.
Final Word
With a bag of applications, IoT in manufacturing also comes with benefits like cost-efficiency, improved decision-making, quicker time-to-market, improved safety, high customer satisfaction, and much more. Businesses can adopt this technology to maximize productivity by ensuring production uptime, lowering expenses, and eliminating waste.
Technosoft Engineering specializes in advanced embedded systems, IoT solutions, IIoT solutions, automation, sensor technology, and much more. Our aim is to leverage IoT data to increase demand forecasting and boost supply chain operations. Though complex in nature, we try to simplify every solution and augment your output.