Internet of Things in industrial automation is a game changer that will reap new benefits. It not only creates scope for innovation, but also helps solve problems at the micro level, enhance operations, and increase productivity. The main aim of industrial automation is to reduce the necessity of people in the manufacturing process and eliminate errors.
IoT in industrial automation can be achieved by mapping industrial processes, understanding micro and macro process, and their relations with machines to automate the process. This entire process involves the interconnection of sensors, instruments, and other devices over a common network to accomplish a task. 
Let's quickly drive through detailed explanations, advantages, and the role of IoT in industrial automation engineering.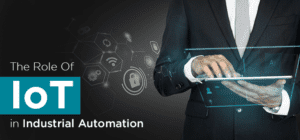 What Does IoT Do For Industrial Automation?
IIoT refers to sensors, instruments, and other devices networked with industrial computer applications, such as manufacturing and energy management. This connectivity enables data collection, exchange, and analysis, which may improve productivity and efficiency and have other economic benefits. The IIoT is a Distributed Control System (DCS) evolution that uses cloud computing to refine and optimize process controls.
This is enabled by integrating multiple technologies like cybersecurity, cloud computing, machine-to-machine, 3D printing, advanced robotics, big data, cognitive computing, etc.
Practical Advantages of IoT in Industrial Automation
Scalability
Scalability in production is attained by increasing output, two goals that the digital industrial transformation facilitates and accelerates. Humans are sometimes the weakest link in production processes, which is unfortunate for the workforce. However, by removing humans from a process and delegating production to robots, businesses are able to increase their throughput.
System uptime enhancement
Like production, uptime is limited by humans. People need rest, food, a safe workplace, and ethics. Machines don't need breaks or food. Because of automation, many factory floors are safe.
Operational efficiency
Operational automation means interconnecting and integrating systems to share information and improve operations exponentially. Computer logic lets systems respond to other needs. This basic application is everywhere now, from turning off lights to alerting global suppliers that a factory will soon run out of raw materials and need resupply.
High-security access and control
IoT introduces many attack vectors to automation systems, but it also offers a solution. Automation can be used to defend against cyberattacks. It helps defenders make their entire network visible, adhere to a policy-based approach to system configuration, management, and security, and automate many low-level maintenance tasks while alerting IT teams of more serious breaches or attack patterns.
Role of IoT in Industrial Automation
Internet of Things (IoT)
IoT concepts and technology are being explored and implemented in industrial automation. IoT helps create effective, affordable, and responsive system architectures. The goal is to create frictionless communications and interaction from manufacturing field input/output, including analyzers, actuators, and robotics, to increase flexibility and manufacturing. Industrial automation has used IoT in major applications, such as PLCs replacing banks of relays.
Internet of Things Products and Devices
Internet-connected IoT devices and systems can collect and exchange data. These products have many forms and use. Some of the examples include:
Smart thermostats, security cameras, and light bulbs can be controlled remotely via smartphone apps.

Smartwatches and fitness trackers track a user's activity and health metrics.

Connected cars can communicate with each other and with traffic infrastructure using sensors and other technologies.

Industrial IoT systems can monitor and control factory and warehouse equipment.
IoT products make our lives more convenient and efficient by allowing us to easily collect and access physical data.
Internet of Things Gateway Devices
IoT gateways connect a network of connected devices to the internet. These devices are used in industrial IoT systems with hundreds or thousands of devices to connect and manage work.
IoT gateways are equipped with hardware and software to perform various tasks. IoT gateway devices have user-friendly interfaces that make configuration and management easy. This can include web-based interfaces, mobile apps, and other tools that make it easy for users to set up and maintain their IoT systems
Industrial IoT Development Kits
Industrial IoT (IIoT) development kits include hardware and software to help developers create applications and solutions. These kits include sensors, actuators, and other physical components for building and testing IIoT systems, as well as software libraries and other tools for developing and deploying IIoT applications.
IIoT development kits can be customized to meet the needs of a specific industry or application. A manufacturing company's IIoT development kit may include sensors and other components used in manufacturing, while a transportation company's kit may include GPS and other location-tracking technologies.
A Quick Recap on Industrial Automation Engineering
The Internet of Things, or IoT, is a network of interconnected, data-collecting and -exchanging devices. By allowing machines to communicate with one another and with central systems, IoT-enabled devices can be used to increase efficiency and productivity in the context of industrial automation. 
In industry, for instance, an IoT system could be used to monitor the performance of individual machines and determine when maintenance is required, as well as to automatically adjust production processes based on real-time data. This can help to decrease downtime and increase operational efficiency overall.
Final Thoughts
Want to leverage the best technology for IoT industrial automation? Technosoft Engineering IoT Services will take your Industrial Automation processes to the next level of connectivity and intelligence.
Get in touch with us today for our industrial automation engineering.