The global industry of IT grew from $8.4 billion in 2021 to $9.4 billion in 2022, i.e., at a rate (CGAR) of 11.6%. This growth is proportional to the ITeS (Information Technology Enabled Services) sectors' growth. IT-enabled services cover the entire gamut of operations that involve information technology for improving the efficiency of a company. 
By optimizing and managing the entire process, or by enhancing customer acquisition through efficient delivery funneling, IT promotes the exponential growth of a business. Every solution in IT is an integration of several technologies that help streamline the process and deliver better ROI.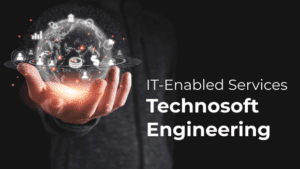 Technosoft Engineering is an ITeS service provider company that equips innovative solutions with modern methodologies to generate a structured process for a successful business. This blog shall cover technology-enabled services by Technosoft, the benefits, and threats of ITeS.
What are ITeS services?
ITeS stands for Information Technology Enabled Services. It is also known as remote services and web-enabled services. ITeS encompasses a wide array of techniques and procedures that leverage IT to expand and improve the efficiency of a company. Additionally, it includes customer relationship management solutions and an improved database outlook to create seamless processes.
IT-enabled services at Technosoft
Design and development
This is the creation of apps for mobile devices including PDAs, EDAs, and mobile phones. These apps can be pre-installed on phones during manufacturing or supplied as web apps using server-side or client-side processing (e.g., JavaScript) to create an "application-like" experience in a web browser. 
The Mobile back-end supports data routing, security, authentication, authorization, offline work, and service orchestration.
This is the creation of application software that runs in a web browser. The crux of designing a web application is developing user-friendly designs, responsive web pages, applications that are flexible with different web structures, and compelling functionality. 
As this application runs in an open browser, it becomes important to integrate it with processes for authentication, authorization, asset handling, input, logging, and auditing to avoid security issues.
Web design and development
"Web design" refers to the front-end (client side) design of a website, including markup. In web development, web design overlaps web engineering. Web design involves numerous techniques and disciplines in website creation and maintenance. Web design includes web graphic design, UI design, authoring (including standard code and proprietary tools), UX design, and SEO.
Custom engineering and software applications
These ITES services are tailored for specific organizations or users that are developed in iterative processes. It involves many departments like marketing, engineering, R&D, and general management. The custom solutions are used for content management, inventory management, customer management, HR management, etc.
Data services
This includes services like technical publishing with proper conceptualization and management. The entire process involves the collection, analysis, write-up, and publishing of the data. The process of publication incorporates creation, acquisition, copy-editing, production, circulation, marketing, and distribution of the material across various channels.
Catalog data management
To circulate the products digitally, catalog data management is essential. This involves centralizing technical and marketing information of all products in one place. It is nucleated in further stages that imply data extraction, capture, configuration, indexing, classification, and technical writing about every product.
SEO and inbound marketing
Search engine optimization (SEO)
This incorporates all the means of allowing the webpage to rank in SERPs. It involves detailed on-page and off-page activities like updating meta tags, uploading XML sitemap, URL restructuring, solving overall page health, bookmarking, classifieds submission, guest post submissions, outreach campaigning, and much more.
Search engine marketing (SEM)
It is a valuable asset for any company to improvise digital visibility by setting up campaigns, setting accurate demographics, maximizing CTR, optimizing a landing page, analyzing each campaign, and optimizing performance.
Social media optimization (SMO)
This involves handling all social media handles to optimize the implementation of marketing strategies. The minor segments incorporated into this are the implementation of analytics to target prospects, integration of CRM with lead generation campaigns, designing and engaging prospects with the designs, and much more.
Email/Chat technical support
Emails have become primary standards for business communications and establishing CRM. Email support services include scalable non-voice contact center support services, automated email generation, economical, and non-invasive email services. 
Benefits and Threats of ITeS
Benefits
Flexibility

:

ITeS services

offer complete flexibility and allow the company to change its structure and management at a reasonable cost. It focuses on core competencies and increases the speed of business.

Scaling staff:

IT-enabled services

expand the reach to an additional workforce that grants unprecedented control over project management.

Improved security:

ITeS services

come with additional security services like data monitoring, protection, and backup. 

Improved focus:

These services avail experts on desks and allow staff to focus on dedicated tasks and prioritize goals.
Threats
Security:

Outsourcing an information system poses security threats from both the communication and privacy perspectives.

Communication:

Lapses in communication can be problematic and slow down the organizational process. 

Morale:

Depending on the extent to which a corporation utilizes external resources, morale is a factor to consider. Despondent employees may work less or become dissatisfied with their surroundings, resulting in a decline in quality and, in some situations, turnover.
Nevertheless, threats can be mitigated by managing goals and outsourcing in a structured way.
Final Thoughts
IT-enabled services are looked up to increase the productivity and growth of a company. These are cumulative of all the services from addressing the target audience, analyzing the market, and 360-degree marketing solutions.
Technosoft Engineering is your one-stop ITeS service provider where you get top-to-bottom solutions that shall escalate your business. We try to supply leading industries with IT solutions of the highest quality. Due to the increasing complexity and importance of the IT industry, we have developed cutting-edge approaches to provide you with creative solutions.
If you are looking for technology enables services, connect with us and take your business to a next level.