Employing manufacturing process automation involves having machines complete specific tasks. This helps you stay competitive in your sector while increasing productivity, efficiency, and cost savings. There is minimal or no human involvement in the automated manufacturing process. 
Automation in manufacturing is employed in areas-
Machine work like processing, inspection, and assembling
Compliance
Customer service
Distribution
Finances
Logistics
Procurement
Research
Sales and ordering
Manufacturing Process Automation companies are augmented by the Internet of Things (IoT). It has now become a global technology that has transformed entire industrial processes. IoT, in conjunction with computer automation controls, helps to simplify industrial processes and increase data automation. Automation aims to eliminate mistakes and inefficiencies, largely from people.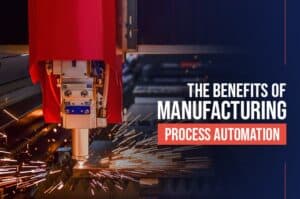 Benefits of Automation in Manufacturing
Quality Control of Product
Manufacturing Process Automation decreases the proportion of defect rate and is more compliant and uniform. This allows the top-quality products to reach consumers. It also reduces or eliminates the chances of human error. 
By involving IoT systems in the production line, the environmental conditions, equipment performance, location of inefficiencies, and consistent process, are all kept in check. These continuous data insights enable manufacturers to pinpoint the source of quality control concerns and confidently take action.
Structured Inventory Management
Automation is rapidly transforming every aspect of inventory management. When manufacturing procedures are integrated with IoT, it enhances the supply chain and performance management. 
IoT uses different technologies like GPS and Radio Frequency ID (RFID) that aid in data collection. This supplements product tracking, improves logistics, identifies potential risk, and thus, makes inventory management efficient. 
Effective Maintenance Schedule
Automated equipment maintenance enhances asset utilization, extends machine life, and optimizes field crew efficiency. Manufacturing companies use automation, data science, and IoT to determine equipment conditions and accurately predict when a failure might occur. 
This technology employs an in-memory database and real-time analysis to highlight areas of the machine that need repairing. This in turn reduces maintenance costs, enhances safety and compliance, and also refines the production line. 
Workplace safety
IoT- based automation in the workplace has enhanced the safety of people. It addresses the large number of threats that can be prevented. This enables continuous monitoring of environmental conditions, the physical health of employees, can help limit employees' risks, and exposure to prevent accidents from happening.  It also speeds up the progress of rescue operations and prevents fire accidents.  
Asset tracking
Automated asset management ensures reliability, extended equipment life, proper asset usage, and best returns on assets. Automated asset tracking involves IoT devices that enable remote monitoring and management of assets' positions and movements. 
It allows optimization of asset usage and performance with real-time data collection and helps generate valuable business intelligence. It supports the entire workflow by producing reports that notify when an asset needs to be served. 
Cost reduction
Automation in manufacturing decreases the overall maintenance cost by using predictive maintenance fundamentals, ensuring worker safety during training and maintenance. It bridges the gap between floor staff and executives; detecting and resolving production bottlenecks.
It also provides insight into future changes and possibilities before the money is put into action. IoT lowers costs by prioritizing and minimizing the impacts of productivity bottlenecks through process optimization.
Bottom Line
The benefits of manufacturing process automation are limitless. As technology is becoming more accessible, automation is becoming more crucial. It leads to an increase in versatility, improves quality, helps gain competitive advantage, and focuses on work expertise. It can even enhance precision, consistency, and uptime. Now is the chance to leverage automated technologies to acquire a plethora of benefits, predictable schedules, and comprehensive budgets.