Automation Machine Designs & Robotics
Automation Machine Designs and Technological advancement have changed the face of manufacturing and its associated industries. mechanical engineering and industrial design have become key factors for companies to remain competitive in the manufacturing industry. The availability of technologically advanced machines and the level of automation decide the product characteristics, the volume of production and the profit margin for the company.
Technosoft has a vast experience in a variety of automation machine design projects that encompass steps from a design brief, study, conceptualization, manufacturing drawings, virtual prototyping and simulation to building and installing/erecting the machine. Technosoft also leverages its strength in engineering, manufacturing, installing and supporting automation systems.
Our technical expertise and dedication to delivering more than you expect help you offer your customers the latest technology superior to your competition. We specialize in a wide range of mechanical engineering and industrial design such as:
Special Purpose Machinery:

Technosoft excels in special-purpose Automation Machine Designs and building. With over 20 years of experience, our team is uniquely qualified to understand what is needed to implement a process solution successfully. So, whether you need to execute robotic automation, or want a custom machine or any automated machinery, we are committed to exceeding your expectations on each project.

Industrial Automation:

Our industrial automation services maximize your business infrastructure to face the increasingly challenging needs for productivity, equipment availability, safety, and performance optimization. We at Technosoft, have rich experience in working on industrial automation systems across geographies. Our engineering team has developed protocol stacks for different industrial protocols as well as enabled them in the customer products.

Food Processing & Packaging Machinery & Equipment:

At Technosoft we strive to reduce the food processing and packaging equipment delivery times while increasing the cash flow and profit margins. We offer solutions for food processing machinery design and packaging equipment design and validation to flourish in the demanding business environment. Our engineers are experts in food processing equipment design and packaging machinery design.

Robotics, Welding Automation, Gantry Pick & Place Systems:

Technosoft's scalable robot design, gantry pick and place systems and welding automation solutions offer flexibility in product handling. Our unique offerings deliver around-the-clock production consistency and seamlessly integrate with the existing manufacturing processes.

Automated Test Equipment, Jigs & Fixtures:

Our team is well aware of the importance of tools, jigs and fixtures design in manufacturing. We design robust and simple solutions that deliver same critical tolerances time and again. Our experienced team delivers the solutions that meet the client requirements with a focus on volumes, environment, tolerances and manufacturing team's experience.

Tooling Systems for Plastic Molds, Castings & Sheet Metal:

At Technosoft, we are committed to design precise and superior tooling systems for plastic molds, castings and sheet metal. Our highly experienced engineers work in close association with our clients from the early stages of each project to make sure each detail is considered and every requirement is met. Our unique tooling systems for castings and tooling systems for sheet metal are designed to meet and exceed customer expectation for guaranteed success of their products.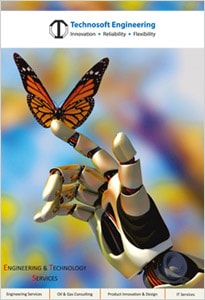 Download Brochure