Website Development
Maximise Your Business's Online Presence with Technsoft's Website Design and Development Services
Technosoft conceptualizes designs and develops premium websites for global businesses. Our exceptional product design & development and intuitive user experiences address the business goals of our clients and solve user challenges effectively. We have been recognized for high standards of excellence by various industry experts.
With web users getting more and more sophisticated, their expectations from a website have increased considerably. Users expect a website to be easy to navigate and provides them the information they are looking for quickly.
Equipped with industry experts and experience, we provide you with the best responsive website design and development services.
Services Offered
Our team of industry experts specializes in product design and development, creating intuitive user experiences that effectively address our client's business goals. Our services include:
Responsive website design and development
Custom web-based solutions
Graphics design services (including 3D modeling)
Content management systems (CMS), including WordPress, Drupal, Joomla, Magneto, and HubSpot COS
Angular and React JS
Technosoft's WorkFlow
Technosoft follows an agile model with biweekly sprints to ensure we deliver a website that meets your expectations on time and within budget. Take a look at how our process flow operates:
Understand: We take the time to learn about your brand, audience, and business objective. We identify your website's key features, functionalities, and content requirements and assemble a project backlog.
Organize: Our team creates a detailed plan for your website, including design, development, and content. We prioritize the features and functionalities in the project backlog, estimate their effort and complexity, and define the acceptance criteria.
Sprint Planning: Before each sprint, we hold a planning meeting with you to discuss the features and functionalities to be developed in the upcoming sprint. We define the sprint goals and break down the backlog items into smaller, manageable tasks.
Design and Development: Our team of experts works on the tasks defined in the sprint backlog. We provide graphic designing services for creating the website's visual design, developing its functionalities, and writing content. We use the most advanced tools and technologies to optimize your website for performance and user experience.
Sprint Review: After each sprint, we hold a review meeting with you to demonstrate the work done and gather feedback. We prioritize the feedback, update the project backlog, and plan the next sprint.
Launch: We ensure a seamless launch of your website with thorough testing and quality assurance. We ensure your website meets the acceptance criteria and is tested across various devices and browsers.
Our Pool of Technology Expertise
We leverage the latest technologies to create websites that are fast, secure, and easy to use. Our tools and technologies for web development include:
Front-end development:
HTML5, CSS3, JavaScript
React, Angular
Bootstrap
Back-end development:
PHP, Node.js, ASP.NET
MySQL, PostgreSQL, MongoDB
Content Management Systems (CMS):
WordPress, Drupal, Joomla, Magento
HubSpot COS
Graphics and Design:
Adobe Creative Cloud (Photoshop, Illustrator, InDesign)
Adobe XD
CorelDRAW
At Technosoft, we don't confine ourselves to a specific set of tools or technologies since we believe in employing the best technology for you. Our team of seasoned professionals is knowledgeable in various technologies and can assist you in selecting the ones most appropriate for your website. Hence, whether you have a certain technology in mind or require our assistance in selecting the best one, we got you covered.
Technosoft Is Your Best Partner
At Technosoft, various industry experts have recognized us for our high standards of excellence. We conceptualize designs and develop premium websites for global businesses.
Our exceptional website design & development and intuitive user experiences address our client's business goals and solve user challenges effectively.
Our expertise lies in creating websites that look great and perform extremely well.
Our team of industry experts understands the latest trends and technologies, ensuring that your website is future-proof and delivers an outstanding user experience.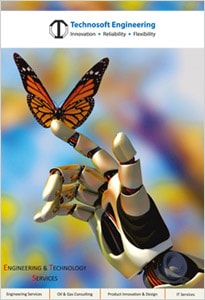 Download Brochure