Mobile & Web Applications
Custom Mobile Application Development To Streamline Businesses Operations
Get effective mobile and web app development services with Technosoft Engineering. Our experts deliver custom solutions that drive business growth and enhance user experience. We always vouch for seamless software development for our clients.
Technosoft conceptualizes, designs, and develops mobile and web applications catering to unique business needs. We understand that with the increasing use of mobile devices and the internet, it's high time to have a strong online presence.
Our experts know the importance of creating an intuitive user experience meeting client expectations.d With our industrial proficiency, we aim to provide exceptional services that exceed our client's expectations.
Mobile and App Development Offerings
As a custom mobile application development company, our team has extensive experience in iOS and Android app development solutions. We prioritize delivering dedicated, customized solutions to your mobile and app development needs. Whether you want to build a new app from scratch or revamp an existing one, we've got you covered!
Our mobile app development service offerings include the following:
iOS Development
Android Development
Technologies we work on
At Technosoft Engineering, we emphasize delivering mobile app development services leveraging the latest technologies. Our team is skilled in various development tools to provide you with services, including a native app for iOS or Android, a hybrid app combining native and web-based elements, or a cross-platform app for multiple platforms with a single codebase.
Our technology offerings include:
Xcode
Android Studio
Mobile Angular UI
React Native
Web App Development Service Offerings
At Technosoft Engineering, we also deliver web app development services along with mobile app development that caters to the unique needs of businesses. Our team is equipped with the knowledge and experience to provide a wide range of services regarding custom app development.
Our web app development services include:
Tailored Application Development
Re-engineering of Applications
Migration and Porting of Apps
Develop and Deliver leading portal solutions
Integrate siloed web apps and services under mobile-friendly interfaces
Optimize existing web apps to enhance their features to drive better results
Maintaining, Auditing & Testing
Technologies We Work On
At Technosoft Engineering, we understand the importance of staying up-to-date with the latest technologies to provide our clients with the best possible solutions. With our exceptional technical expertise, you can count on us to take your business to the next level.
Our technology expertise includes the following:
Front-end Development

HTML/CSS
Full Stack Development – Angular & React

Back-end Development

Relational database – MySQL, MS SQL, and PostgreSQL
Our experts are experienced in working with Cloud-Based Computing Services like Google Cloud Platform and AWS (Amazon Web Services).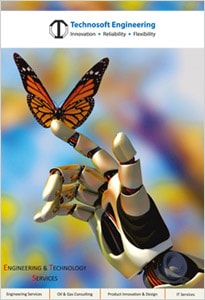 Download Brochure