OIL & GAS EPCM
Technosoft's engineering consulting services are focused on the Oil and Gas Industry. Technosoft, through its subsidiary STEP Engineering Inc., offers a full suite of multi-disciplined engineering, procurement, and construction management (EPCM) services to assist our clients in their project requirements. Our Oil and Gas consulting division is headquartered in Calgary, Canada with a presence in Denver, Houston, and Pittsburgh in the US, and Mumbai in India also.
Technosoft's Advantage
We provide end-to-end solutions for your project irrespective of the site location or stage in the project lifecycle.
We help our clients transform into the next-generation EPCM organization.
We leverage cutting-edge technologies to deliver high-quality engineering services.
We provide complete visibility of the project, control and risk management through our integrated project management, and automation services.
We help you optimize costs and efforts.
Our Services and Solutions
Technosoft/STEP has a proven track record of 10 years of engineering projects in the oil and gas industry globally offering:
Front End Engineering and Design (FEED) Services
Project Management Services
Environmental and Regulatory Affairs
Procurement Services
Engineering Services
Quality Management
Construction Management Services
To know more about STEP Engineering and its services please click here.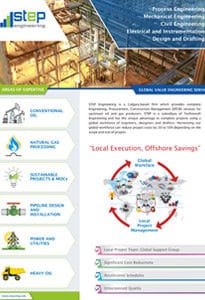 Download Brochure