IT Services
Technosoft Services division specializes in offering on-site and offshore IT services to clients in manufacturing, retail, healthcare, financial services, high-tech and various other industries. Our services span a wide range of technology areas and applications including:
ERP implementation – technical and functional (SAP, Oracle, MS Dynamics)
Business Intelligence / Data Warehousing
Big Data (Hadoop, MongoDB, Splunk)
Mobile Applications (Android, iOS, Windows CE, Blackberry, Symbian)
Open Source applications
Web application development (J2EE and .NET)
Database programming and administration (Oracle, SQL-server, etc)
Embedded systems programming (VxWorks, embedded Linux, etc)
Engineering software (SCADA, control software, simulation, communications drivers)
Business Analysis
Quality Assurance (Test planning, automated test execution)
Project Management
Technical Writing and Documentation
Systems administration (all flavors of UNIX including Linux, Windows)
Network administration
We recognize that our clients have fluctuating project loads and need flexibility in their technical resource strength. In order to help satisfy our clients' need for such in-sourcing of IT services, Technosoft offers 2 types of flexible resource augmentation services:
Onsite Resource Augmentation: Technosoft provides onsite IT and engineering resources on short term as well as long term assignments on a contract basis. Our onsite resources work at our client's locations worldwide, under our client's direction and supervision, to provide the "right expertise at the right time" to meet the project requirements. Technosoft offers competitive hourly and/or monthly contract rates to give our clients maximum flexibility and economy of execution.
Our resources can help augment our clients in-house or field engineering teams at locations across North and South America, Europe, Asia, Africa and Australia.
Direct Recruitment (PERM Placement): For some of our select clients in the US, Technosoft provides assistance with Direct Recruitment (PERM Placement) by leveraging our recruiting prowess and global reach. This service includes search, screening and placement of an IT or engineering resource to become an employee of our client directly or through a contract-to-hire arrangement over a defined period of time.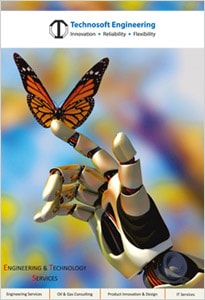 Download Brochure