ELECTRICAL ENGINEERING SERVICES
Our Electrical Engineering Firm provides electrical engineering services. Designing and laying out the right electrical system is not an easy job, as it takes weeks of research and analysis. Any lapse in understanding and implementation makes the system vulnerable to failure. Technosoft's electrical engineering services help you accomplish the desired results at affordable rates.
Electrical engineering services at Technosoft are intended to help you design and modify your state-of-the-art product. Our electrical design services also help you keep your systems efficient, reliable, safe, and up-to-date.
Our electrical engineering services ensure complete adherence to industry standards.
The Best In Business
Technosoft specializes in Electrical design Services & electrical engineering services including  Embedded System Development, PLC & SCADA/HM programming by experienced & qualified personnel for Material Handling Systems, Machine Tools, Plant Automation, Automobile, Packaging, and Pharmaceutical industries.
Our Electrical and Control Systems Services improve operational efficiency and make sure your high-quality products reach the market rapidly.
Our services include
Special Purpose Machines and Material Handling Control System – Electrical Product Development and Standardization
New Product development – Control Panels
Modular – Product Design
PLC Programming and HMI Programming
Electrical Prototyping Services and Electrical Testing
Value Engineering, Cost Optimization and Vendor Development
CAD standardization
Manufacturing Process setup
Operation and Installation Manuals
Plant/Industrial Automation  Engineering
Manufacturing Automated Line Design
Manufacturing Process setup
PLC and HMI Programming
Installation and Commissioning
Turnkey Projects Execution
Operation and Installation Manuals
Automotive Electrical System and Harness design – Commercial and Off-Road Vehicles
Designs and develops vehicle electrical components and subsystems
Climate Control and Body Electronics
Chassis Electronics and Power Distribution
Electrical and Electronics Schematic System Design
Electrical Components Selection
Wiring Harness Design
2D and 3D Wiring Harness Routing
Value Analysis/Value Engineering
Manufacturing Process Setup
Engineering Data Migration and Reverse Engineering
Electrical Schematic migration
PLC and HMI Programming Migration
Reverse Engineering
Legacy Conversion
Electrical Standards Migration
Retrofit Engineering
Why Choose Technosoft?
Suitability

We schedule our work and deliverables as per the customer's requirement.

Flexibility

We offer a flexible engagement model to our customers.

Offshore Engagement
Onsite Engagement
Hybrid Engagement (Onsite + Offshore)
Offshore Development/Dedicated Centre (ODC)
Flexibility to switch from one business model to another

Transparency

We maintain transparency in our working style. We make our customers feel delighted by associating with us for their requirements.  On-Time Project Delivery

Strong Quality Control

Freedom to choose the sourcing strategy best suited to your business needs
Cost effective services

Most competitive rates in the industry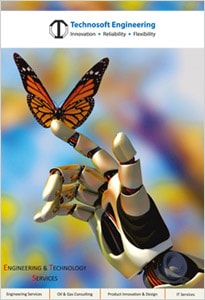 Download Brochure