Off-Highway Equipment
The population is hitting the stars and creating a demand for more infrastructure, Industrialization and Agricultural output. These demands will forever go on increasing exponentially. The need to meet the ever growing demands is pushing Off-Highway equipment manufacturers to change their strategies dynamically. The delay in adopting the required changes quickly is creating huge pressure for designing and developing new equipment with more efficiency and the ability to perform better under heavy loads.
Off-Highway equipment is a broad term which is used to explain the machinery which spends most of its time off-road. The type of equipment can range from large trucks used in mining to small agricultural machines, and everything in between. Technosoft can partner with you to localize your products, improve asset usage and improve the emission and engine efficiency requirements.
Technosoft have a team of engineers who have specialized domain knowledge and expertise in the Off-Highway equipment design. We assist you in designing and enhancing your existing equipment and components that could produce better results and productivity. We at Technosoft focus on Off-Highway Equipment design and development by continuously developing new competencies. Our top-notch technologies help deliver the future ready engineering solutions which transform businesses.
Essentially our area of expertise includes:
Mining Equipment:

At Technosoft mining equipment design is created keeping in mind the extreme conditions in which the mining equipment will operate. They are designed to withstand harsh environments with mud, dust, shocks, rain, vibrations, etc. We design, qualify and fully test the products for the demanding conditions to assure the highest level of reliability and robustness. Our dedicated team of engineers has extensive experience in mining equipment design services as well as analysis and global compliance standards.

Earthmoving Equipment

Technosoft being a global technology leader in the off highway equipment industry provides world-class earthmoving equipment design solutions. Our clients have been able to reduce the life cycle costs while accelerating the time-to-market with the help of our ready-to-deploy solution frameworks. We leverage the knowledge of our functional and product experts in designing customized or localized earthmoving equipment compliant with the global safety, emission and regulatory requirements.

Agriculture Equipment:

Technosoft is a strategic supply partner and trusted technology innovator for global manufacturers of agriculture equipment. We have expertise in agriculture equipment design and technology portfolio to develop the product range that suits your needs. We help design standard agricultural products available in various configurations along with custom agriculture equipment. Our accelerated designs help delivering your products to the market on time, and increasing your profitability.

Construction Equipment and Machineries:

Technosoft helps global manufacturers solve core engineering design challenges on developing safe and sustainable construction equipment and construction machinery design. The construction equipment market is one of the most demanding and has highest requirements in terms of reliability, robustness, efficiency, functionality and comfort. The machineries we design ensure effective performance under extreme conditions. We turn your product development dreams into reality by engineering, designing and validating future ready products.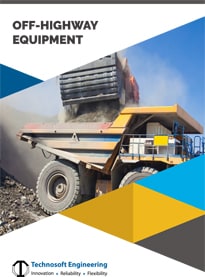 Download Brochure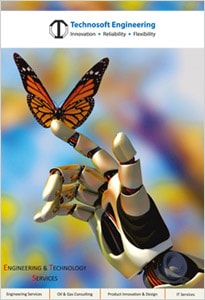 Download Brochure