Cloud computing has revolutionized the way businesses operate. It has introduced a new way of doing things, where data can be accessed from anywhere and at any time. 
Cloud computing allows organizations to access computing infrastructures and services that are provisioned over the internet. Cloud computing is enabling businesses to reap numerous benefits like lower cost of computing, better data security, and faster access to data.
A web service is an application programming interface (API) that provides functionality over the internet. These services allow cloud computing systems to connect with each other. Let's dive deeper into web services in cloud computing and their benefits. Also, we will discuss cloud computing solutions by Technosoft, a pioneer in cloud services with over 25 years of experience.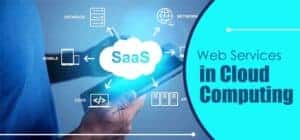 What is Cloud Computing?
Cloud computing is an internet-based service where users can access services on web-connected server infrastructure (i.e. server farms, data centers, and cloud services providers) to store, access, and share data across the internet.

In simple terms, with cloud computing, the service provider provides a centralized platform and storage of data for multiple users across the internet. This allows customers to access resources over a network with proper security and control.

The service provider enables a pay-as-you-go model in which customers are charged based on the type of resources used and per usage.

For instance, web services are accessed via server farms or data centers that host web servers for web services such as Amazon Web Services, Rackspace Hosting, Microsoft Azure, etc. 
What are Web Services?
Web services are software, applications, or cloud technologies that use standardized web protocols (HTTP or HTTPS) to communicate and exchange data messages in XML (Extensible Markup Language) across the internet. 

Web services are used for application-to-application (A2A) communication, which involves programs, messages, documents, and/or objects. 

Web services are a set of open protocols and standards used to exchange data between different applications or systems over a computer network such as the internet. 

Web services are invoked by sending a request via XML and the service responds with an XML response. This process of sending a request and receiving an XML response is known as SOAP(Simple Object Access Protocol). 

A web service can be accessed using any language that can access services on a server using HTTP or HTTPS protocol. 
Types of Cloud Services
A cloud service is a computing platform deployed in a server infrastructure for provisioning computing resources, networking, storage, and other services. It offers improved services for computing infrastructure and software. Some of the popular cloud services are:
Infrastructure as a service (IaaS)

Platform as a service (PaaS)

Software as a service (SaaS)

Private clouds

Cloud-based applications
Benefits of Web Services in Cloud Computing
With Web Services in cloud computing, IT organizations are able to provide web-based services to their customers. 

These services can be developed and operated by web service providers, which means that web service developers don't have to worry about the operational aspects of the services. 

The web service has access to the computing resources of the cloud service provider, so it can scale its resources as needed. This offers predictable access to IT resources from anywhere at any time. 

Customers can access web services quickly and easily without having to invest in expensive hardware or software. 

Also, web services in cloud computing allow organizations to reduce operating costs by standardizing infrastructure across multiple web services. 
With web services, customers can access a variety of web-based services from a single interface. This makes it easier for customers to use web-based services and reduces customer support costs. 
Technosoft's Cloud Solutions & Services
Techosoft has a variety of cloud solutions and services that are designed to help customers harness the benefits of cloud computing. These include cloud infrastructure, cloud-native development, and virtualization. Cloud infrastructure services help organizations design, build, and manage cloud infrastructure, including server infrastructure and storage. This service can be customized to meet the specific requirements of each client. 
How Technosoft Can Help with Cloud Computing and Web Services?
Technosoft can help organizations use shared computing and storage resources rather than building, operating, and improving infrastructure on their own.
With our web services platform, web services professionals of Technosoft can build web service applications using web services technologies.

Web services platforms of Technosoft provide resources that can be scaled up or down automatically, depending on the load.

Web services platforms of Technosoft provide resources that are accessible over a network with proper security. 

Web services platforms of Technosoft provide a pay-as-you-go model, where customers are charged based on the type of resources and per usage. 

Web services platforms of Technosoft enable green computing services as they have joined an industry pledge to achieve climate neutrality by 2030. 
Technosoft is a trusted provider of web service solutions that can help organizations scale web service deployments efficiently and effectively.
Let's Sum Up
Cloud computing is here to stay and will only get more popular in the future. If you want to keep up with the competition and be ahead of the curve, web services are a must-have for your business. 
At Technosoft, we understand web services and cloud computing like nobody else and have helped numerous customers adopt cloud computing. From setting up cloud computing infrastructure to operating cloud computing platforms and web services, our consultants can help you leverage cloud computing to its fullest potential.