About Us
Technosoft Engineering is a global provider of engineering design, embedded and IoT services to various engineering & manufacturing verticals and of EPCM services in the oil and gas industry. Technosoft was formed as a division of Technocraft Group in 1999 in order to leverage the group's engineering expertise into a services organization that supported clients worldwide. Today, Technosoft has sizable operations in North America as well as in Europe, serving clients in general engineering, heavy equipment manufacturing, specialty machines, consumer electronics, medical devices, smart metering and in the oil and gas industry. The company also has a center of excellence in Mumbai, India to provide additional support to its global customers.
Technosoft Engineering has a strong team of over 700+ engineers and designers located worldwide. The broad-based expertise and flexibility of the resources allows Technosoft to offer multi-disciplinary engineering services in its 5 business lines – Engineering, Consulting, Innovation, Resources and Content.
Mission:
Technosoft's mission is to partner with its clients to satisfy their engineering design and innovation needs through reliable, high-quality and flexible service models.
Infrastructure:
Technosoft is headquartered in Thane (Mumbai), India where its center for excellence and corporate functions are located. The building is owned by Technosoft and was specifically designed and built with the objective of supporting large collaborative engineering teams. The building also accommodates a prototyping laboratory. There is provision for future growth and expansion.
In Europe and N. America, Technosoft's subsidiaries operate from leased facilities in Class A commercial office buildings.
Technosoft engineers and designers are equipped with state-of-the-art hardware and software tools in their fields, including those for 3-D modeling, Finite Element Analysis and process simulation.
ISO/IEC 27001 : 2013 Certified: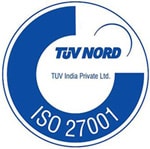 Technosoft is ISO/IEC 27001:2013 certified. ISO 27001 is the most widely known information security management standard used by organisations to keep data assets secure. Undertaking the ISO27001 certification process demonstrates a commitment to information security at every level of our organization, with the implementation of a comprehensive Information Security Management System (ISMS) to control the handling of all information assets in a secure manner.
Corporate Video